Adult Trike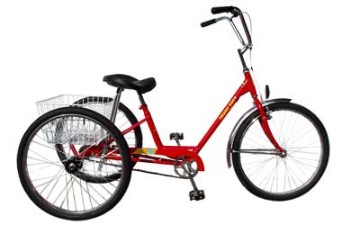 Details
Miami Sun Adult Tri-Wheelers have come a long way in the last 34 years constantly evolving to maintain the ultimate in comfort, reliability and trouble free riding. The recently revised frame of the Miami Sun features a "Foot Forward" design. This maximizes the riders' pedaling efforts and increases starting power. The Miami Sun also maintains the lowest step-through height in the industry to make for easy mounting and dismounting. A three speed hub for $150 and a 5 speed hub for $200 can be added new or at a later time.

Miami Sun Adult Tri-wheelers are available in lots of colors. Call for in stock options.

This bike is not available for shipping. This is an in store pick up only item. We also do not take payment over the phone.
Reviews
Read 7 Reviews
Write a Review
Attractive (6)
Durable (5)
Great components (5)
Handles well (3)
Lightweight (3)
Flimsy construction
Handles poorly
Heavy
Poor tires
Steel wheels
Road biking (3)
All-purpose around-home
College wheels
Commuting
RECREATIONAL
Attractive Design
Great Components
Comments:
I bought this for my 13 year old special needs daughter. She uses it to ride around the subdivison. She can ride it through grass, but it is quite difficult for her. My only complaint is it feels unstable when coming close to curbs. Although it has never turned over on her, it does give the sensation of falling over if you are leaning on uneven surfaces. Overall, we have been extrememly pleased with this product as it gives my daughter the mobility she was looking for without adding training wheels to a bicycle.
Handles Well
Great Components
Durable
Lightweight
Attractive Design
Comments:
I researched this bike like buying a new car. Test drove several models. This was hands down the best one. Large comfortable seat for extended rides and well built. I opted for the pricier 3 speed with rear coaster brake. Much easier for inclines and grass riding.
Great Components
Durable
Attractive Design
Comments:
nice bike for a three wheeler. very attractive. It is just that when you make a sharp turn, be careful not to lean into the turn. seems to want to tip. Going straight and making mild turns and the bike deliverys just what you would want.
Attractive Design
Lightweight
Durable
Great Components
Road Biking
College wheels
Comments:
I bought a standard Miami Sun Deluxe trike in 2002. Owned to for a couple of months then had to modified with a three speed w/ coaster brake. I'm now gonna remove the three speed w/ coaster brake and replace it with a 33.5cc engine and three disc brakes.
Handles Well
Durable
Great Components
Lightweight
Attractive Design
Comments:
I have had my Miami Sun Trike for about four months and cannot think of enough good things to say about it. When my auto stop running, I needed something to get to the market, drug store and various restaurants. Not being able to purchase another car, I opted for the Trike. I mentioned this to my brother in Colorado and he immediately arranged for me to have the trike. I ride it every morning and afternoon and have just today reached 500 miles. With an odometer in place when new, the mileage is very real and accurate. I will recommend the Miami Sun to anyone.
Comments:
I bought this bicycle 1 year ago in dec. and the seat bracket is already broken.They tell me I have to buy the hole seat to get the bracket.I am not happy with that when all I need is the clip.I hope they will get this fixed.I am going to rig something up that I hope will work.I can not recommend this product until they are able to make the part I need available.I hope someone will help.
Handles Well
Attractive Design
Durable
Comments:
The Miami Sun adult trike has been a wonderful bike for our son with autism and some mental retardation. It is fairly easy to transport, and has opened the world of cycling to him. Our one disappointment: with old-style steel wheels, cleaning rust off is a day-long job, and replacement wheels must be specially made, at over [...] per wheel.